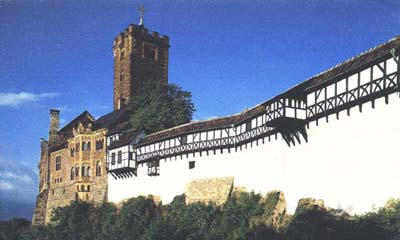 Wartburg - where Luther was held in protective custody for 10 months after the Diet of Worms in 1521 and translated the New Testament into German
Take a memorable tour of the colorful places where the great sixteenth century reformer and church founder, Dr. Martin Luther, lived, prayed, studied, taught, and preached .
Custom motor coach tours, possibly lead by your own pastor, can be arranged. We can also arrange independent tours by automobile or train.
Our recommended nine day guided tours begin and end at Frankfurt. See attached tour itinerary for details. Great English-speaking local guides will take you through the very streets and buildings where Luther walked. Most hotels will be in the heart of historical towns and there will be time to stroll on your own. Planned "historic" meals will give you the feel of actually living in Luther's time.
Group tours include deluxe motor coach and boat transportation, eight nights hotel accommodations (double occupancy), breakfast buffets and dinner (or lunch) each day, local guided tours and admissions to historic sites and museums. Single rooms are available for a reasonable supplement. Ideally a group should be 20 to 30 or 35 people. Group or individual airline reservations can be arranged. Special arrangements can also be made for those wanting to extend their stay in Europe before or after the tour.
Call 1.888.610.7345 for more information.
GeoExpress
CST 2062674-40